A new service has been introduced for all regional companies who have entered their details in RegIS-Online: as of immediately, a company can now present its logo in the profile it displays in the Internet.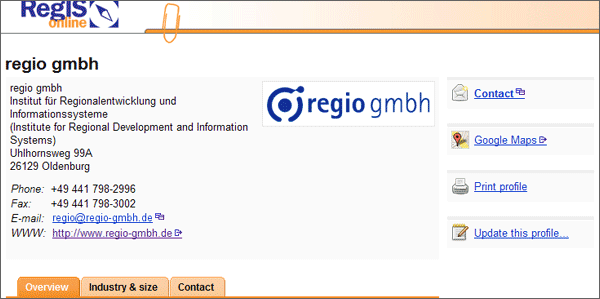 With the incorporation of the company logo, the aim is to make the portrayal of a company more appealing and increase its recognition value among the many users of RegIS-Online. The integration of the logo is very simple and can be carried out by the companies via the online access they have to the database for data maintenance purposes.
The regional economic development companies / business promotion agencies and regio gmbh, the portal's operator, are interested to see how many companies from the region will be taking advantage of this chance in future to optimise their presentation. Needless to say, as with all services related to the RegIS company database, this new feature can also be used by companies free of charge.
Together with the new search function for the company database and the "interactive map" for industrial sites, the integration of a logo in the company profile is already the third innovation at RegIS-Online in 2011. Incidentally: the RegIS-Online pool partners would welcome any Feedback you would like to give on the RegIS-Online services.
If you would like further information or have any questions about being included in the company database or about integrating a company logo, please feel free to contact us.