At RegIS-Online we are now offering you an Interactive Map Search for the first time. This places a new and attractive function at your disposal to give you an overview of all the vacant industrial and commercial sites available throughout Germany's northwest.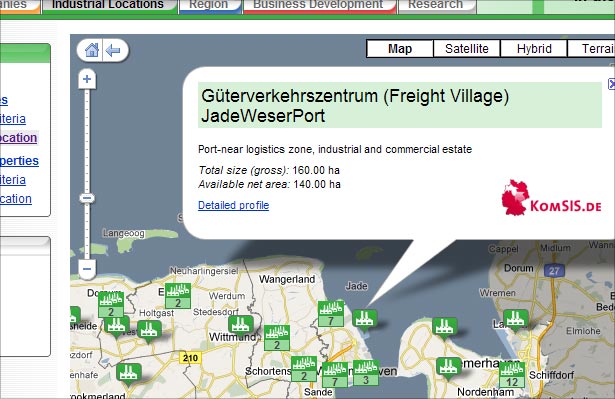 With the new map search facility, you simply choose interesting locations or infrastructure in Niedersachsen to look at more closely and then get information about the available sites that exist there. Zooming in and out and panning the map, i.e. moving the map segment on view, works in just the same way as is familiar from modern map applications like Google Maps. And via the selection options to the right of the map, you can filter precisely those site offers that meet your own personal criteria.
To make sure that the map always stays clear and easy to read, the so-called clustering of business sites was developed. If several industrial or commercial estates are situated too close together at the scale currently being displayed, a special symbol is shown that also contains the number of sites within the cluster. Zooming into the map then breaks up the cluster into further elements until the individual sites are displayed separately.
Following the new search function for the Company Database, this modern interactive map search is now the second further development that RegIS-Online is starting up with in 2011. Any Feedback from you in the form of suggestions, praise or criticism about the services provided by RegIS-Online would be happily received by the participating economic development companies and business promotion institutions and by regio gmbh, the operator of the portal.